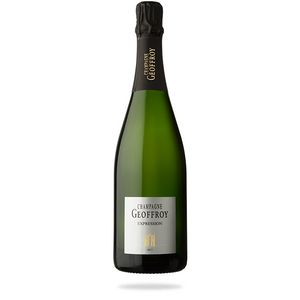 The first Champagne of the Exclusive house 'René Geoffroy'. 
Located in the heart of the Marne Valley, this family estate has been the anchor of several generations of winemakers. The domain, with its 35 plots, extends to Damery, autvilliers, Cumières and Fleury-La-Rivière. The roots of the Geoffroy family go back to the 17th century. In the early 1950s, the Roger Geoffroy brand was born. René Geoffroy, son of founder Roger Geoffroy and his wife Julienne, soon succeeds his father. Their brand is further developed together with his wife Bernadette. Over the years, Jean-Baptiste joined this family estate in 1980, together with his wife Karine.
Champagne Expression
TERROIR 

Surface: 14 ha

Clay and Lime
Average age of the plant: 20 years
BLEND 

53% 2015 and 47% 2014
35%, Pinot Noir, 35% Meunier and 30% Chardonnay
DOSAGE 
5 g / l
VINIFICATION
Alcohol content: 12.5%
Maturation for 3 to 8 years in your own cellar, depending on the condition. of Champagne.
Manual harvest with grading on the vineyard. Vinification per lot in wooden barrels. Malolactic fermentation is avoided in order to maintain its authentic and original freshness.
PRESS REVIEWS
2019 - James.Suckling.com: 91/100
2019 – RVF Guide: 14/20
2018 –Gault Millau Guide: 16/20
2018 –RVF Guide: 14.5 / 20
2018 –Gault Millau Guide: 15/20
2018/2019 –Tyson Stelzer Guide - Australia: 92/100
2016 -Bettane & Desseauve: 15/20
Burghound - USA: 92/100
Wine Advocate - USA: 89/100
Wine Spectator - USA: 90/100
Stephen Tanzer's - USA: 91/100
TASTING
Ripe and fragrant, with an expressive bouquet that releases beautiful aromas of apple sauce, enhanced with notes of vanilla. On the palate, the attack is refined with a broad range of fruit and a beautifully fresh finish.
PAIRING
Keep this Champagne Expression for aperitifs or with starters like seafood pastries or braised veal sweetbreads.